4 Ways Grocery Retailers Can Validate Supplier Quality
A recent survey based on over 2 billion transactions found that grocery shoppers are becoming increasingly quality-focused. In fact, this segment is growing more rapidly than price-focused shoppers.1 It's imperative for grocery retailers to deliver superior quality to their customers to build their brand loyalty. You know your suppliers play a major role in the quality of your fresh produce, but how can you validate that you're working with the right suppliers to accomplish your goals? This is where good supplier quality management can help. Here are 4 key strategies that grocery retailers can use to manage supplier quality.
1. Dive into the Data on Your Suppliers and Identify Trends
How often do you study supplier data? Do you have a system in place to collect this data and analyze it? Looking at historical insights helps you make smarter decisions in the future.
Start with a high-level overview of all suppliers. Review your quality inspection data for the past few quarters, years, etc. Dig into:
Overall supplier performance, including number of rejections and defect rates
Commodity and category performance
Quality at different points in the growing season
Location performance (growing locations and DC locations)
Pay attention to the percentage of each shipment that was rejected, accepted with issues, or accepted after inspection. This will give you an overview of problem areas in your current supplier mix.
Look for Noticeable Trends and Outliers
Are there any suppliers with more rejections or issues than others? Or suppliers who have delivered consistently high quality? Do certain suppliers tend to deliver produce with the same defects almost every time? This information helps you predict the quality you can expect in the future from those suppliers.
For example, if 75% of the cases of strawberries you inspected from Supplier A last year had light bruising, you can reasonably expect this trend to continue in the future. If only 5% of cases from Supplier B had light bruising, this would make Supplier B a safer choice for consistently high-quality strawberries.
Also see if certain commodities or categories have unusually high or low performance or if there are periodic fluctuations in quality. Lastly, identify any growing locations or DC locations that stand out from the rest.
2. Explore Quality Issues that Come Up Consistently
Once you've identified the larger trends, take a deeper look at recurring quality issues. Try to drill down to specific defects or issues that are happening most often. Are a few suppliers responsible for these issues, or is it more widespread? You may need to better align certain suppliers to your quality specs, or make sure you clearly communicate your specs to all suppliers. Compare your suppliers' prices to the average quality they deliver to determine if you're getting a fair value.
Next, study seasonal trends. Are there certain times of the year where defects are more prevalent? Try tracking the quality trends throughout the growing season to see if there are high and low points in the season. Certain growing regions may be experiencing unusual weather conditions or adverse weather events that impact quality. In this case, you may have to adapt your own specs rather than expecting suppliers to change the quality they are sending. In addition, by studying seasonal trends, you may be able to anticipate drops in quality ahead of time and to switch shipping locations ahead of your competition.
DC locations with inconsistent quality could indicate that your inspection processes are not aligned and/or your inspectors have not received consistent training. Some inspectors may be catching more issues than others, which means that your stores are at risk of receiving low-quality produce that should have been rejected at the DC.
Use the Right Tools for Analysis
Meaningful data analysis is difficult without the right tools. A digital dashboard can assist you by putting all the data into an aggregated report. There are many digital solutions available for the food industry that will automatically aggregate your data. For example, Quality Insights from iFoodDS provides supplier report cards designed for grocery retail buyers, category managers, and distribution centers.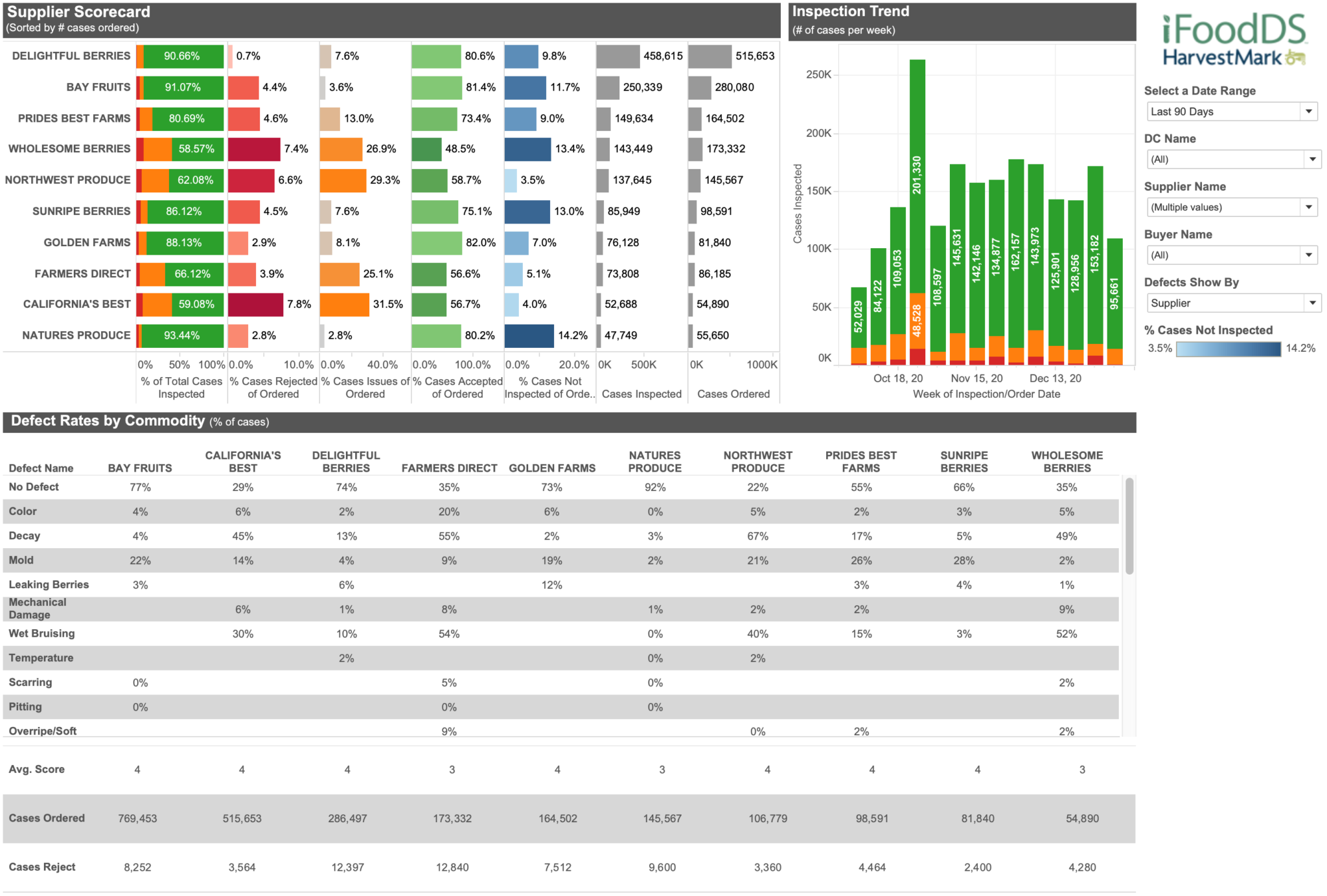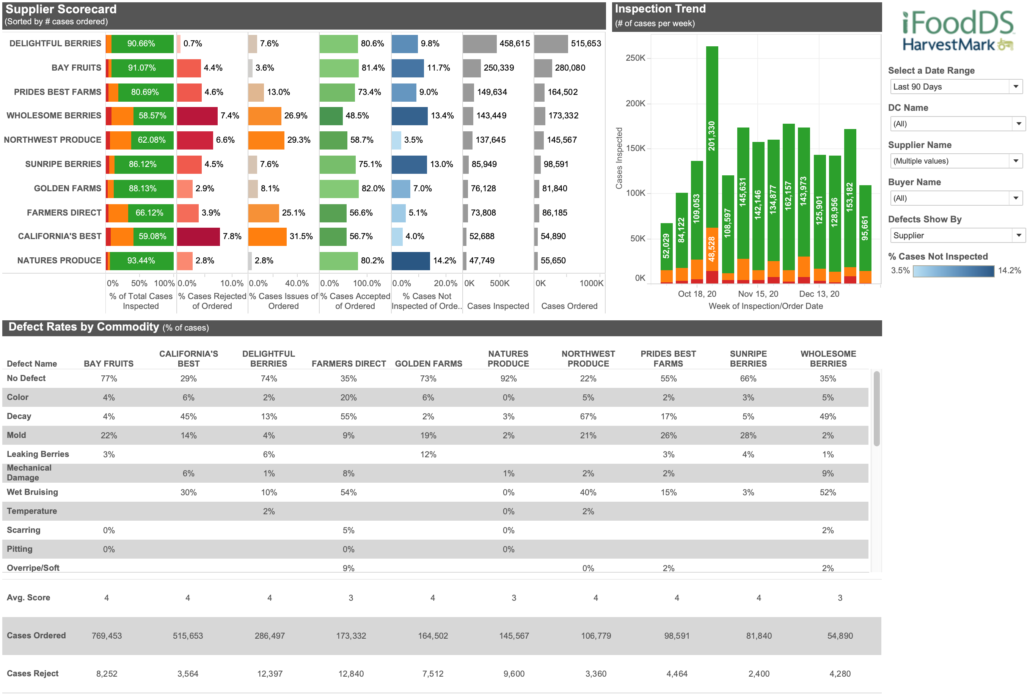 We help you make better sourcing decisions and improve your overall supplier mix by providing real-time insights into your fresh produce quality. Supplier scorecards let you compare all your suppliers side-by-side, while QC summary reports enable you to drill down to specific inspection details for categories and commodities.
3. Share Key Data with Your Team and Your Suppliers
Once you've identified the most significant data points, you can strategically leverage it to help your internal team make better sourcing decisions. Present your findings to your buyers so they can decide whether they should change their strategy. For example, maybe they will buy more of their produce from top-performing suppliers, try to negotiate a lower price with lower-performing suppliers, or stop working with the lowest-performing suppliers. This data can also be used to guide future pricing and ensure you're balancing quality with value.
You should also share findings with suppliers so they can be aware of where they stand compared to your other suppliers and what they need to do to align with your quality specs. Work collaboratively and be open to adjusting your specs or negotiating a new price as necessary. Think of your suppliers as your partners and cultivate a mutually beneficial relationship. The more data you share with them, the better they can adapt to deliver the quality you need.
4. Monitor Supplier Compliance
Although quality is always top of mind, you also want to ensure you're providing safe food for your consumers. Suppliers need to remain compliant with applicable industry safety and quality regulations. This involves a significant amount of paperwork.
It's wise to monitor supplier documentation, but with so many moving parts, it's difficult to get a handle on which suppliers are currently in compliance. If you're keeping all your records on paper, that complicates matters. A digital document management system allows you to have a real-time view of supplier documentation. You can easily see which suppliers are in compliance and receive alerts whenever a supplier's documentation is about to expire. This makes managing supplier documentation simple and efficient.
Explore food safety document management solutions.
Get the Tools You Need to Manage Supplier Quality and Compliance
If you currently use an in-house solution or paper records to manage supplier information, you might not be getting the right insights out of your data. iFoodDS provides food quality management software that can help you benchmark supplier performance and identify trends in quality. Our supplier document management software allows you to digitally manage supplier documentation and monitor compliance in real time. Reach out to our team to get a custom quote.
---
1. Symphony RetailAI, "Striking a balance between price and quality: Study reveals new shopper insights and implications for promotion and price investments," 2021, https://offers.symphonyretailai.com/striking-a-balance-between-price-and-quality-register