Make Better COVID Mitigation Decisions with a No-Cost Modeling Tool from iFoodDS and Cornell
By Claire Zoellner, PhD
Food Safety Scientist
Since the COVID-19 pandemic, the global supply chain has been disrupted with ongoing challenges. Food companies need to navigate employee absences, mitigate the spread of illness, and find a way to keep facilities running at the highest and safest degree possible. Organizations at every stage of the supply chain have been tasked with balancing productivity and employee safety – a grave and difficult situation. How can these decisions be made effectively and ethically?
Food companies need the right tools to inform their COVID mitigation strategies, and now iFoodDS has partnered with Cornell University to provide a solution. We created an infectious disease model with funding from a USDA grant to help processors, growers, and other companies in the perishable supply chain make these difficult decisions.
How an Agent-Based Model Helps Your Business Operate to the Highest and Safest Degree
We designed this tool as an agent-based model. This means it recreates the employee population (at an individual level) in a computer and then simulates their behavior and interactions over time to get insights on future/emerging dynamics. Using a model for this task helps you identify trends and outcomes that may not be as obvious without taking into account thousands of potential scenarios – a task humans aren't capable of without a computer. Our model was specifically built for the food industry and uses public data on COVID-19 and the U.S. workforce, in addition to the details users provide about their individual work environments.
When you add your information to the model, it provides custom predictions of disease transmission in your facility or farm. We've built reports to show you how COVID might spread among workers, the impact this might have on absences, and how long facilities can maintain operations without shift shortages. These reports help you identify the COVID mitigation strategies that will be best for your unique circumstances. You can compare projections and pick a strategy that will maximize production capacity and employee health while keeping costs and losses under control.
How to Use Our Model
We have made this model available at no cost because we believe in partnering with you towards pursuing a more resilient supply chain. The first release of the model focused on produce farms. Now, iFoodDS is excited to announce the newest release that expands the scope to processing facilities. This version also includes some other important features:
Additional analysis of the cost of interventions and potential production loss to help you decide on the best investment for your organization.
Additional insights to account for new variants and booster vaccines.
Here's how it works:
Create an account at foodcovidcontrol.com/FOODCTL/
Navigate to the Model Selection and choose from Farm or Facility.
Fill in the details of your operation and workforce, then click "Submit."
You will receive an email when the results are ready to view in your online dashboard.
Once the model has processed your data and created predictions, you can view four detailed reports.
Infectious Report
Shows the projected number of infectious employees over time. The results are presented in a line chart, with each line representing a different prediction based on a different COVID mitigation strategy. There is also a baseline prediction that shows how many employees would become infected with no COVID mitigation strategies in place.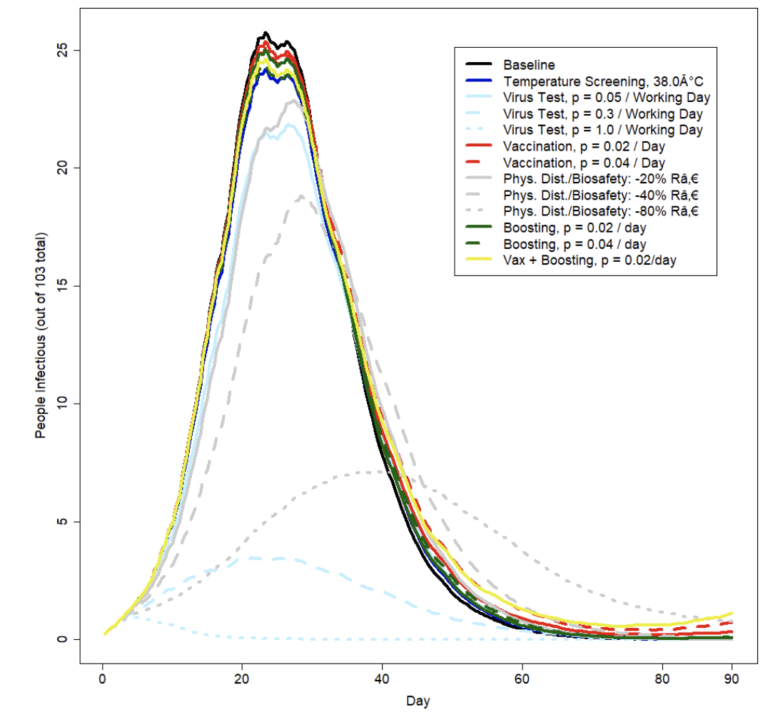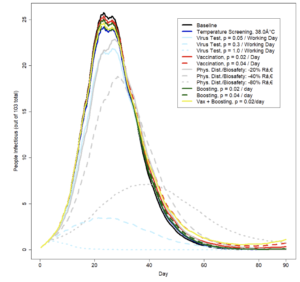 Availability
Shows the projected number of employees who will be unavailable to work over time, as well as the number of employees absent per shift. Results are displayed in a line chart with each line showing a different prediction about employee absences (based on different COVID mitigation strategies).
Capacity
Shows the likelihood of labor shortages over time, measured in percentages of shifts with labor shortages. Also reports on the probability of having at least one shift with labor shortages and the projected first day of a labor shortage.
Economics
Shows the total expenses for each COVID mitigation strategy, including the cost of materials and implementation. Also shows the production loss that may occur from labor shortages.
Background
The model was created by a Cornell University team with assistance from food safety scientists at iFoodDS and Diane Wetherington, founder of iFoodDecisionSciences (now iFoodDS). The iFoodDS engineering team built the website that hosts the tool.
The model was built with an agent-based model for measuring infectious diseases. We've made sure it's accurate for each sector of the food industry by testing it with data from real facilities and farms that tried different COVID mitigation strategies during the pandemic. We also received continuous guidance and input from food safety executives in several major food corporations, including dairy, produce, and meat processors.
The project was funded by a USDA grant with three objectives in mind:
Understand the industry need and develop a modeling tool to address it.
Scale the modeling tool for user access.
Offer training, education materials and industry outreach.
iFoodDS has been committed to assisting the produce industry throughout the pandemic, offering virtual auditing capabilities and working to support our clients in this challenging time. Our mission is to relentlessly pursue a better food supply. A major aspect of this is a resilient supply chain. We designed this model to help make the food supply chain more resilient as new COVID variants continue to emerge. We encourage you to sign up for free at foodcovidcontrol.com/FOODCTL/ and start using the insights to make data-driven decisions about COVID mitigation.
Interested in digital solutions for food safety, quality management, or traceability? Explore our food software solutions or reach out to our team to discuss your needs.