5 Strategies to Reduce Produce Shrink in Your Grocery Stores
In 2020, the average produce department shrink was 4.5%, according to a recent FMI study.1 This amounts to billions of dollars in lost profits for the grocery retail industry.
These numbers are staggering. Although shrink is unavoidable, there are ways to reduce it and make a positive financial impact on your grocery retail business.
While your first instinct may be to look for ways to improve processes in your store or distribution center, it's important to keep in mind that the causes of shrink could be rooted in different stages of the supply chain. You should be looking at your shrink problems holistically rather than just focusing on the store or DC. Here are several strategies for reducing shrink and food waste in your organization.
Don't Take Anticipated Shelf Life at Face Value
If your suppliers have given you an expected shelf life period for certain commodities, test this time period by recording real shelf-life data. You need to know if commodities hold up as expected over time. Make sure you watch for larger trends that could indicate an issue. For example, does produce with shortened shelf life come from a specific supplier or a certain location?
There is no better way to ensure your shoppers are having a consistent experience than to actively gather data and test shelf life. Pay attention to produce deterioration over time and watch for the point where you think produce should be discounted, as well as the point when shoppers probably wouldn't buy it anymore.
Monitor produce shelf life with iFoodDS' digital solution.
Find Alternative Uses for Produce Nearing Expiration
Think beyond special promotions and sale prices for produce that's about to expire. If your supermarket contains any prepared food departments (e.g., deli, bakery, or ready-to-eat meals), instruct your employees to send older but still usable produce to the store kitchen. This not only prevents food waste but also enhances another department's offerings.
Not all grocery stores have these departments, but another option is to donate to a local charity such as a food bank. Food waste is a growing issue and consumers are becoming more conscious of it. If you're working towards a more sustainable business, this can be a way to connect with your shoppers and build your brand.
Mitigate Common Mistakes That Lead to Shrink
Although quality and shelf life should be a major focus, employee or customer errors also contribute to shrink. These include:
Employees misidentifying produce or accidentally selecting the wrong commodity at checkout.
Customers mis-ringing certain items (i.e., putting in the code for a conventional apple instead of an organic apple), or forgetting to scan items in their carts.
Employees and/or customers not weighing produce accurately by not placing it properly on the scale.
To combat employee errors, train your retail team members on the true cost of these mistakes. For example, emphasize that conventional commodities usually cost far less than organic ones, so whenever an organic item is mistaken for a conventional one, it costs your store a lot of money. Also prioritize accuracy over speed in your store culture. You might even consider incentivizing employees for reduced errors at checkout.
In the case of customer errors, you can't do as much directly. This is where you'll need to rely on employees to put the store policy into practice. Ensure your team has been given adequate training on common shopper errors and how to handle them.
Identify Where the Breakdown in Quality Occurs in Your Supply Chain
It's important to pinpoint the root cause of your shrink issues. These are often complex issues, and they may have multiple contributing factors. You should start with evaluating your stores and distribution centers (if applicable).
Potential Quality Issues in Your Store
Are your store employees following all proper handling and storage procedures?
Is produce quickly unloaded and appropriately stored as it comes into each retail store? Or are there unnecessary delays?
Is shrink spread out fairly evenly across all stores, or are certain stores contributing more than others?
Are your DC inspectors accepting produce they should have rejected?
Do your DC inspectors have the time and tools they need to accurately assess quality?
Was produce stored properly at the DC?
Were there any potential cold chain abuses between the DC and the store shelf?
All of these issues are common, especially given ongoing labor shortages and turnover in the grocery industry. Experienced QC inspectors can be especially difficult to find. You need to make sure your inspectors have the tools they need to do their jobs efficiently and effectively, regardless of their experience level.
Potential Quality Issues from Suppliers or Growers
If your stores and DCs are following all best practices, then shrink could be caused by other issues along the supply chain.
Are growers following optimal harvesting and precooling procedures?
Is the produce following cold chain compliance from the grower to the supplier, and during transportation to your DC?
Are there seasonal factors or weather events that are causing issues? Do your buyers need to source produce from different growing regions at certain times of the year or adjust specs?
Is there an issue with packaging? Does produce need to be better protected and preserved during transportation?
You should also be assessing how well your suppliers are aligning with your quality specs overall. If they are frequently sending produce that has issues or is out of spec, you may need to realign them on your expectations. It's helpful if you have the quality data to share with them so that they can clearly see where there are performance issues or areas for improvement.
Get the Right Data with Quality Management Software
Quality management software allows you to collect data over time and share it with your suppliers to strengthen your partnership. Ultimately, having the right data at your fingertips will allow you to proactively manage produce quality, reduce shrink, and get the most out of your supplier relationships. Here is a brief example of how iFoodDS helped one grocery retailer improve the quality of their fresh produce.
Regional Grocer Increases Rejections Temporarily to Improve Quality in the Long Term
iFoodDS worked with a regional grocer to implement our Quality Insights solution. Initially, there was a 1.5 to 2 times increase in rejections at the DC as the grocer gained increased visibility into the quality of the produce their suppliers were sending. Inspectors were able to more efficiently complete inspections and caught more issues than before.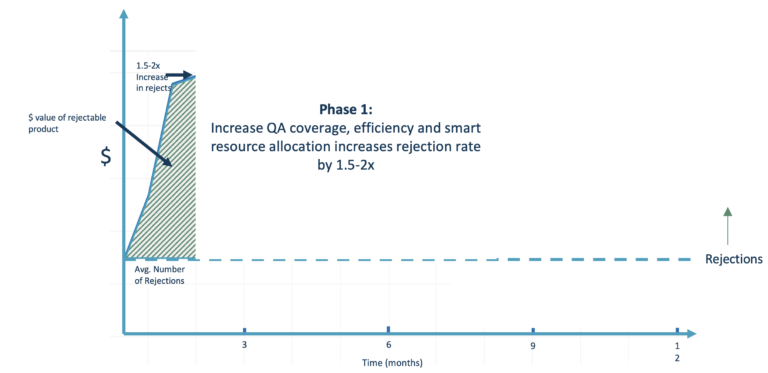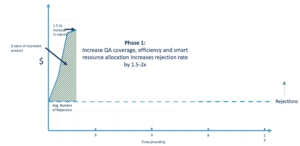 Over time, the grocer's suppliers responded to these increased rejections and started sending higher quality produce. At the same time, the grocer's buyers used the data from Quality Insights to inform sourcing decisions. Over the course of 6 months, rejections gradually decreased to the previous baseline. This was due to a collaborative effort. Suppliers improved the quality they sent, while produce department buyers improved the overall supplier mix.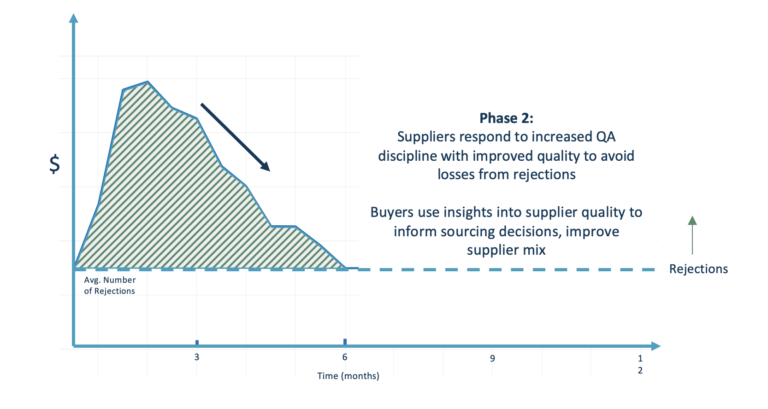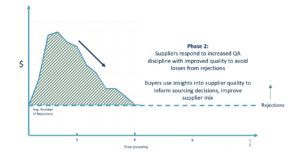 The grocer continued to share data from Quality Insights with its suppliers to continually optimize fresh produce quality.
The increase in rejections may seem alarming initially, but it led to higher quality produce on store shelves. Quality ultimately translates to reduced shrink as produce consistently holds up to its anticipated shelf-life period. Consumers are also delighted by better quality and will be more likely to continue patronizing the store with the higher produce quality. .
Get the Tools You Need to Reduce Shrink
It's hard to reduce shrink if you lack full visibility into the extent of it as well as the root cause. Get access to real-time data and identify larger trends with Quality Insights from iFoodDS. Our easy-to-use app keeps quality data at your fingertips. We also offer a connected Shelf Life Monitoring solution that allows you to track freshness and quality of produce over time and compare by supplier, location, and other factors, both at the distribution center and the store level. Reach out to our team to learn more or schedule a free product demo for our quality and shelf-life solutions.
---
1. FMI, "The Food Retailing Industry Speaks 2021," https://www.fmi.org/forms/store/ProductFormPublic/the-food-retailing-industry-speaks-2021