Are Your Suppliers Sending the Information You Need to Comply with FSMA 204?
Our survey found only 45% of labels on cases received at the DC contained the right information.
Capturing, storing, and easily accessing traceability data is critical to complying with the FDA's recently finalized FSMA Rule 204. Are your suppliers sending you the right information to record your Key Data Elements (KDEs) (PDF download)? Are you receiving that information in a readily accessible format? Scannable PTI labels, while not the answer to capturing every KDE, make it easier to capture and share most of them.
Recently, our team visited multiple grocery retail customers' distribution centers (DCs) and observed that some of the cases lacked a label. Many other cases had a label but no barcode, which will make it very difficult to record KDEs at receiving and shipping once FSMA 204 is enforced.  
We've been helping our customers assess their level of preparedness for FSMA Rule 204 for the past year. In addition to visiting DCs and inspecting cases, we did a comprehensive review of case label images captured in our quality management system during receiving inspections in DCs across the U.S. We found that, of 407 total suppliers reviewed in our image library and during our DC visits: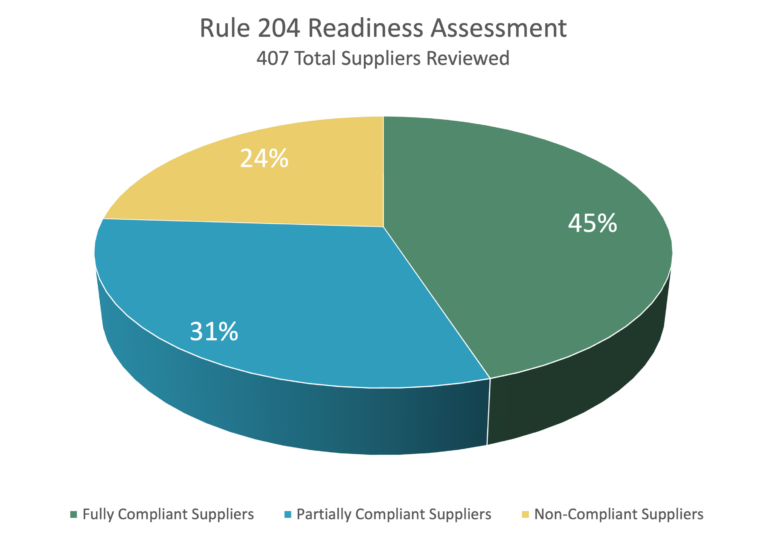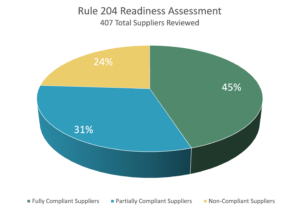 45% (183) of cases had fully compliant labels

31% (126) of cases had labels that lacked key information and did not align with PTI standards

 

24% (98) of cases did not contain a label at all

 
Hopefully this survey will get you thinking about your own suppliers' labeling practices. Do you know if you're receiving the data you need to record your KDEs? It's critical to be prepared now that FSMA Rule 204 is finalized. Here are 3 steps you can take right now to ensure you have everything you need to record your KDEs.
1. Audit Your Suppliers' Labeling Practices
Consider doing something similar to the assessment we mentioned at the beginning of this article. Start recording information about the labels on cases your suppliers send you. Observe: 
Whether or not every case contains a label

 

The type of label used (is it a scannable PTI label?)

 

And finally, the information included on the label.

 

Does it cover most of the shipping/receiving KDEs?

 

Do you have a system in place to capture KDEs not included on the label?

 
Once you've gathered observations on all your suppliers, you can gain a clearer picture of how close you are to FSMA 204 compliance. Are there major gaps in information? Or are most of your suppliers providing the right information? Perhaps more importantly, are the labels in a format that is easy to ingest? Scanning a GS1-128 barcode is a lot more efficient than manually typing information into a computer. 
Proactively reach out to suppliers who are not including the necessary KDEs on their labels so you can fix this prior to the enforcement of FSMA Rule 204. 
2. Determine How You Will Ingest Your Suppliers' Data
Getting the data you need from suppliers is only half the battle. You must also be able to ingest and access that data in your own system, which you can do in a variety of ways: 
Import a flat file with your suppliers' data into your own system.

 

Ask your suppliers to use traceability software that stores shipping KDEs in the cloud and makes the data accessible to you.

Use an Advance Ship Notice (ASN) to gather data ahead of a shipment.

Use an Application Programming Interface (API) to exchange data between your system and your suppliers' systems.

 
Any of the above could be a viable option, it all depends on your own workflow and resources. The most inefficient method would be to exchange paper files. This will provide limited visibility and make it very difficult to gather the data into an electronic spreadsheet within 24 hours of an FDA request. Paper records also lack the data insights that online platforms provide. 
3. Standardize Your Traceability Program
Start Preparing Now to Standardize Your Traceability Program
FSMA Rule 204 will require you to access data rapidly once the FDA makes a request. If your traceability program lacks standardization, then pulling this information could become a confusing, disorganized process. Work to standardize your program now, creating a single source of truth for food safety and traceability information. You can best accomplish this by using one platform or system to store and access your data. You don't want to be in a situation where a critical piece of information you need to give to the FDA is missing – perhaps buried in one person's inbox, sitting in a 3-ring binder in a filing cabinet, or stored in a forgotten legacy software system. 
Get Your Suppliers On Board
Standardizing your traceability program may or may not involve getting your suppliers onboard with the same platform to exchange data. As mentioned above, there are many ways to ingest data into your own system. However, asking your suppliers to adopt a standardized system for data exchange will benefit them in the long run. They will be able to go beyond compliance and leverage their data to gain meaningful insights. You might also ask your suppliers to adopt a common data standard, like PTI or GS1. 
Consider Standardizing Workflows Across All Commodities – Not Just for Foods on the FTL
Lastly, consider using the same data collection workflows for all your commodities, not just the ones on the Food Traceability List. It's likely the list will grow in the future, so you will already be prepared if you start collecting this data now. It's also more efficient to collect the same data across your organization rather than asking your employees to use two different workflows. 
See if You're Prepared for FSMA 204
iFoodDS has put together a simple infographic to help you get ready to comply with FSMA Rule 204. We also recommend New Era Partners' Timeline to FSMA 204 Compliance infographic. We've also included a sample of a compliant label below to help you evaluate your own suppliers' labels. We hope these resources help you feel more confident in your ability to navigate Rule 204. If you would like to learn more about digital traceability solutions from iFoodDS and how they can help you seamlessly collect and store KDEs, reach out to our team for a free consultation.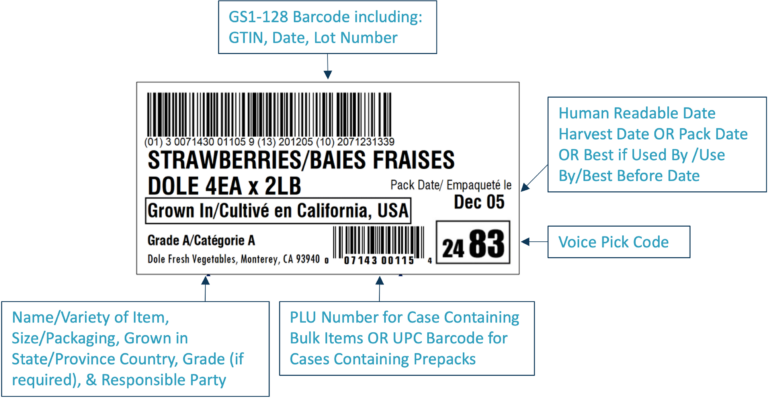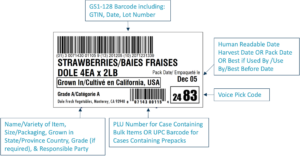 This material is for informational purposes only and not for the purpose of providing legal advice. You should contact your attorney to obtain advice with respect to any particular issue or problem.